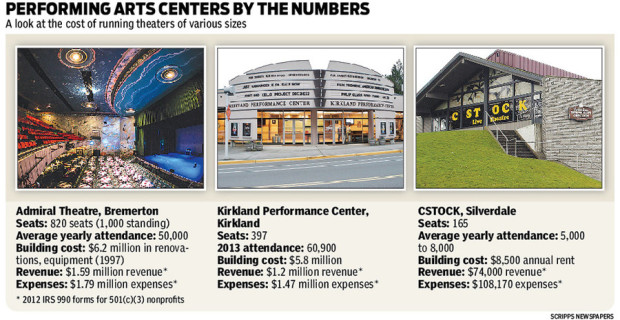 Published online: Saturday, Aug. 23, 2014    Print: Sunday, Aug. 24, 2014
SILVERDALE — The vision for the Central Kitsap Community Campus in Silverdale has long included a library, youth and senior centers, and a performing arts facility surrounding a village green space.
The vision of the campus began to turn into a reality in 2011, when the Haselwood YMCA opened its doors. This week, the community will learn whether the second piece will fall into place, with the Kitsap Regional Library slated to announce Tuesday whether it will pursue construction of a new Silverdale Library on the campus or elsewhere.
Meantime, a nonprofit has been working in the background to make a performance arts center possible on the campus.
The West Sound Performing Arts Center (WSPAC) formed as a board last year and began laying the groundwork for bringing a theater complex to the campus. It gained nonprofit status this year.
Michael Stowell, WSPAC board president, worked as a professional musician for 15 years before earning his law degree. He said he was compelled to join the board because he felt Silverdale needed a venue that could attract high-quality music and dance performances.
"I see this both as a way to provide local access to the arts and to spur local development," he said.
Now, WSPAC's board is working to outline a market for the proposed art center. Seattle-based consultants Richard and Anna Linzer have a $50,000 contract with the county to advise the group and coordinate the creation of the center.
Members are studying what's the appropriate size and what type of performances a facility could attract. They are looking at construction costs and figuring out a long-term business plan.
Both candidates running for CK county commissioner, Democrat Linda Streissguth and Republican Ed Wolfe, said that if they were elected in November, they would work to coordinate with WSPAC and other organizations seeking a place on the CK campus.
"I think without a doubt we need a community arts center for the whole county," Wolfe said.
Streissguth, who is currently serving as county commissioner, said she saw the campus as the "heart, mind and soul" of the CK community, with the heart being the Haselwood Family YMCA, the mind potentially being the Silverdale library branch and the soul the performing arts center.
WORKING OUT THE COST
WSPAC acknowledges there are multiple theater and performance art venues in Kitsap County, ranging in size and the types of shows offered. WSPAC's goal is to find its own niche in the West Sound, Stowell said.
Stowell said that a two-theater building is currently envisioned, with one theater accommodating larger-scale performances with higher-end productions, and another theater with a small stage for local and community groups to use.
The size will ultimately dictate its cost.
WSPAC had envisioned the smaller theater seating 400 and the larger theater seating 900. But now the group is looking at downsizing to a 250-seat performance room and a 600-seat main stage theater including a 200-seat balcony area.
The larger theater would have a fly system, which is a pulley-and-weight setup that allows items and people to be lifted up and down onto the stage, allowing for larger-scale productions.
Stowell estimated that the facility could be as large as 30,000 square feet and cost $500 to $600 per square foot, totaling about $15-$18 million.
Linzer estimated fundraising could for a facility could take seven to eight years.
If the experience of a performing arts center across the water is any indication, it could take much longer.
It took a decade to raise $5.8 million for the Kirkland Performance Center (KPC), a 397-seat theater that opened in 1998. Ultimately, the money came from nearly 1,000 donors, including government agencies, corporations, foundations and individuals, according to the center's website.
At 17,200 square feet, the theater cost around $330 per square foot.
Closer to home, it took about six to seven years to raise the $4.2 million needed to pay for renovations to Bremerton's Admiral Theatre. The old theater played movies before the renovation, and reopened in 1997 as a full-fledged performing arts center. Another $2 million secured in federal grants since its reopening has helped pay for equipment and repairs, including adding a catwalk and fly system.
PAYING FOR THE CENTER
WSPAC is still working on figuring out where the money to pay for a West Sound Performing Arts Center will come from.
Stowell said the organization is researching state grants and has also considered partnering with the Central Kitsap School District. If the two entities were to strike up a relationship, the school district could use its ability to go to voters for a bond to pay for a center.
According to CK school district spokesman David Beil, there are no plans or current discussions for a joint bond.
The idea isn't unprecedented.
In 1992, Central Kitsap voters passed a $62.5 million bond, and one of the projects promised was a performing arts center, according to Carl Johnson, a former CK school board member. But state matching comes didn't come through, and the center never came to fruition, he said.
The money was used to help build PineCrest Elementary School in East Bremerton instead, Beil said.
Johnson said he saw the passing of the earlier bond as an "underlying level of support" for a performing arts center in Silverdale.
KEEPING THE DOORS OPEN
WSPAC also will need a financial plan, like any nonprofit or business that wants to keep the lights on.
According to Linzer, a performing arts center can rely on about 40-60 percent of ticket sales to help cover the cost of running a performing arts center. Additional revenue to keep the lights on often comes in the form of donations and sponsorships.
The Admiral Theatre, which books about 30 shows a year, supplements its income by renting out space for private events during the week, like corporate meetings and weddings.
Almost every performance the Admiral books has a sponsor to also help cover costs, Brian Johnson said.
"We try and get 100 percent of our artist fees sponsored. If we don't have that we have a difficult year," he said.
While booking fees are confidential for each performer, an act can range in cost from $3,000 to $30,000, Brian Johnson said. The cost of booking an act includes travel, hotels and food, as well as staffing and security for the performance and all of its people. Once a performance is booked, a theater then has to advertise the event in hopes of making its money back.
Even the price tag for community theater performances can cost into the thousands.
CSTOCK, a community theater group based in the Silverdale Community Center on the CK campus, rents its space for around $8,500 a year. That will go up to $13,200 a year next year, because of a new lease with the county, according to Brandon Myers, CSTOCK board president.
The group also pays anywhere from $4,000 to $6,000 for rights to perform a show, Myers said. The cost is based on the show's popularity and how many seats the venue has.
CSTOCK's current theater has 165 seats.
An entire production can cost $12,000 to $15,000, including costumes, set design, royalties and marketing, Myers said.
Beyond the cost of paying for performances, facilities will eventually need repairs. Those are costs that can't come out of operation funds, the Admiral's Brian Johnson said. Fixing a leaking roof can cost as much as $200,000, he said.
Performing arts organizations are constantly fundraising and relying on community support, said Nate Murphy, the Admiral Theatre's public relations director.
"We need the help to sustain this," he said.
WSPAC Board
The West Sound Performing Arts Center is a nonprofit group pursuing plans for a performing arts center on the Central Kitsap Community Campus in Silverdale. It is made up of the following members:

Michael Stowell: Practicing attorney who majored in music theory at Yale, then was a professional musician exclusively for 15 years after college. Continues as a part-time music professional.

Jennifer Stowell: Licensed mental health counselor with a long connection to theater.

Mike Menefee: Teacher, musician, choir director, leader of the Kitsap Chordsmen vocal group.

Irene Bowling: Concert pianist and longtime local music teacher. Currently running for 35th District state Senate seat.

Irene Wurden: Realtor

Bob Guardino: Realtor

Robin Sigo: Port Gamble S'Klallam Tribal Council Member and Tribe Treasurer

Kate Ahvakana: Suquamish Tribe member