Fewins Farm
Gladys Fewins walks back into her farmhouse Saturday, June 6, 2009. Fewins, 92, grew up on the same family farm where she raised her eight children in Savonburg, Kan. Doctors diagnosed her with lung cancer, giving her six months to live. She is still walking around the family farm today.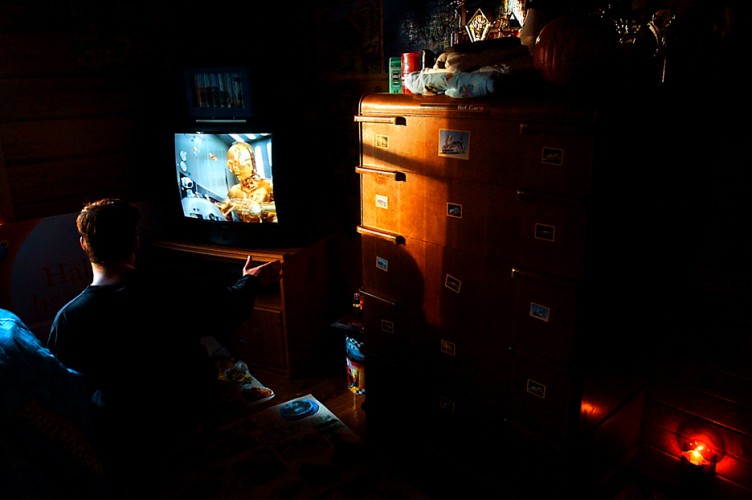 Adult Autism
Justin Eaton, 26, watches one of his favorite movies Sunday, Nov. 25, 2007, at his home in Savannah, Mo. Eaton was diagnosed with autism at 12 years old. Unable to live on his own as an adult, Justin lives with his mother, Carolyn Donaldson, and stepfather, Jim Donaldson. "He is not like a typical person," Carolyn Donaldson said. "He isn't sociable. He won't look at you and doesn't like to be touched."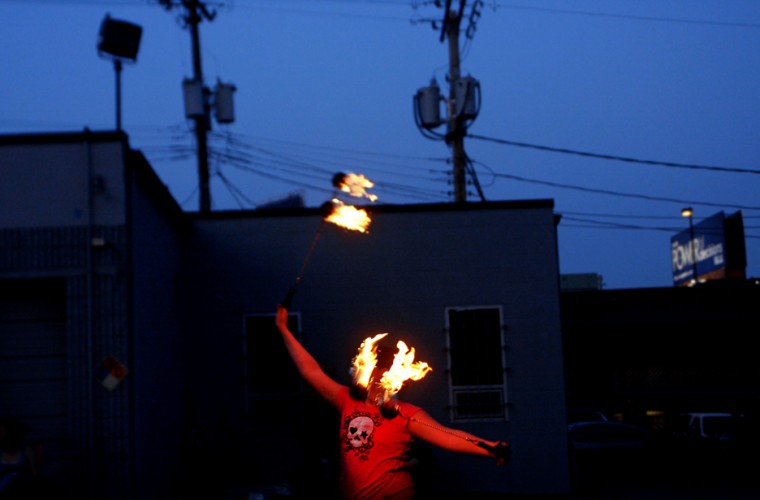 First Fridays
A young street performer spins flames along with her family for tips during Kansas City's First Fridays art event May 1, 2009. Every first friday of the month art galleries and shops open their doors from 5 p.m. to 9 p.m. in the Crossroads Art District. Residents and visitors, along with street performers, from the surrounding Kansas City area flock into the district, especially during the summer months.
Longest 8 Seconds
Guthrie Murray of Miami hold tight during the Bull Riders Inc. Bull Mania event in Skiatook on Saturday, Aug. 20, 2011. Kade Alberty took first place in the bull riding, even after smashing his leg between the bull and a fence post. He was taken to the hospital and released with a severely sprained knee, according to his mother.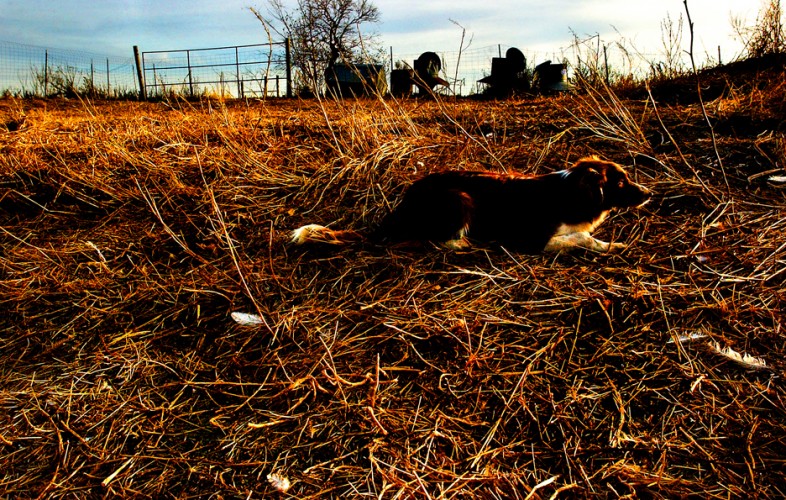 Country Farm
Jay Maddick's dog, Snickers, watches the turkeys as the sun sets Wednesday, Nov. 7, 2007, at Campo Lindo Farm near Lathrop, Mo. Maddick and his wife, Carol, raise free-range chickens, cows, lambs and turkeys.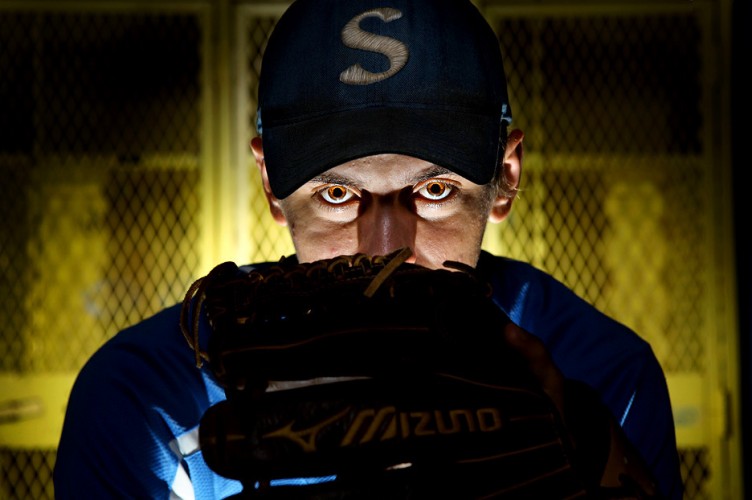 Pitching Lightning
Shidler senior Ricky Hosack has been pitching for the varsity baseball team since he was a freshman, but the mound has been his second home for long before. "He has been a pitcher his whole life," head coach Matt Holland said. "That's what God made him to do." Portrait taken in May 2012.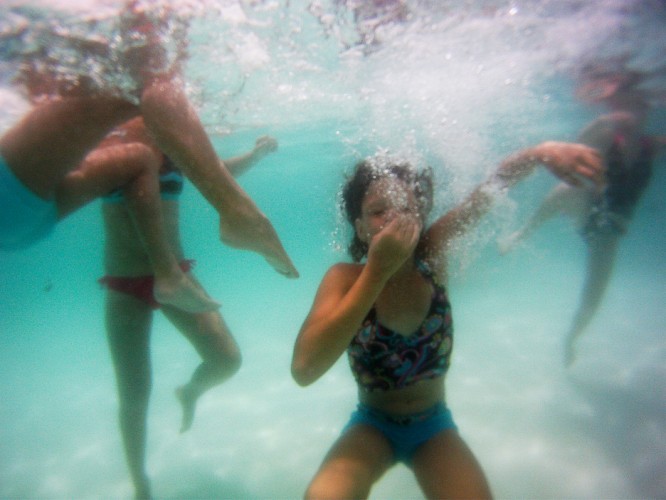 Last Swim
The Pawhuska Indian Camp and Boys and Girls Club Summer School had their last pool play day of the summer as the Pawhuska pool prepared to close Thursday, Aug. 2, 2012. More than 50 children showed up for the final splash of the year.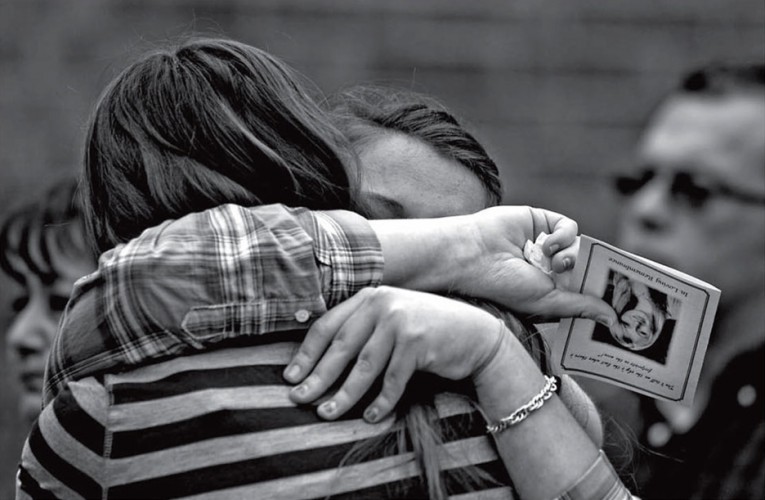 Fulks' Funeral
Friends and family comfort one another at the funeral of 17-year-old Heidi Fulks, where she was eulogized as a girl of great moral fiber. The Pawhuska High School student was three days from finishing her junior year when she had a single-car wreck that killed her and injured passenger Katelyn Thompson, 16. Neither of the girls were wearing seat belts on their way home from Lake Bluestem, according to the accident report. Fulks' funeral was Pawhuska's First Baptist Church on Monday, May 16, 2011.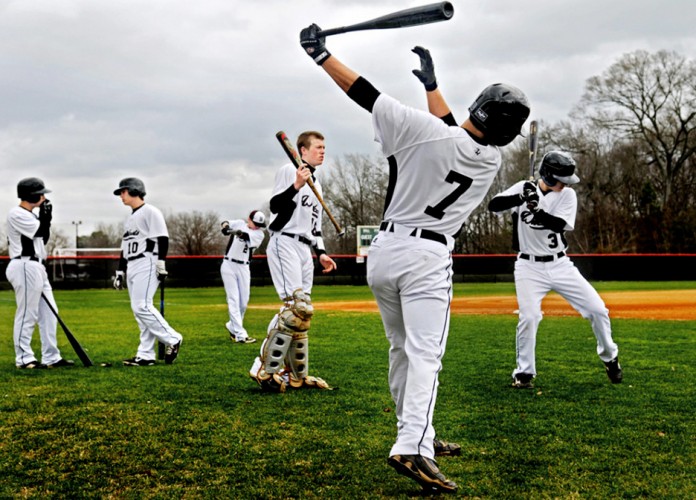 Warm Up
The Whitehouse High School baseball team warms up before Thursday's game against Forney High School at Robert E. Lee's baseball field Feb. 24, 2011. The game was cut short in the third inning because of lightning.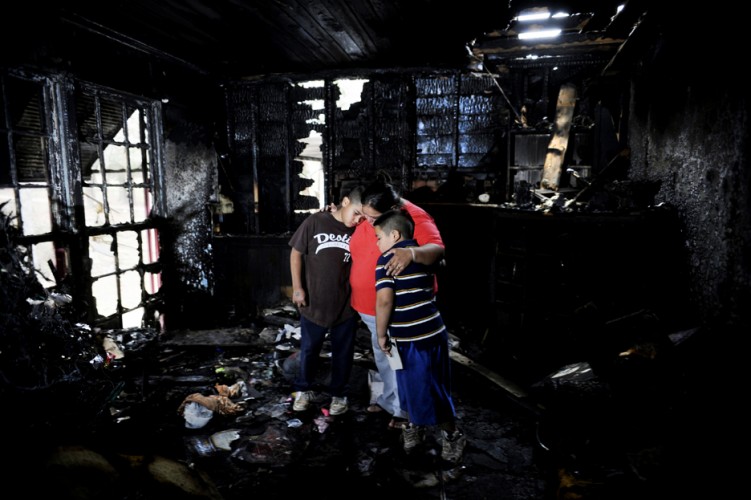 Christmas Eve Loss
Maria Avila, 28, and her sons, Nicholas, 9, left, and Andrew, 6, become emotional in their old living room, which burned down Christmas Eve of 2010. Nicholas Sr. The Avilas are currently living with Maria's parents, while Nicholas Sr. working on a new home for his family.