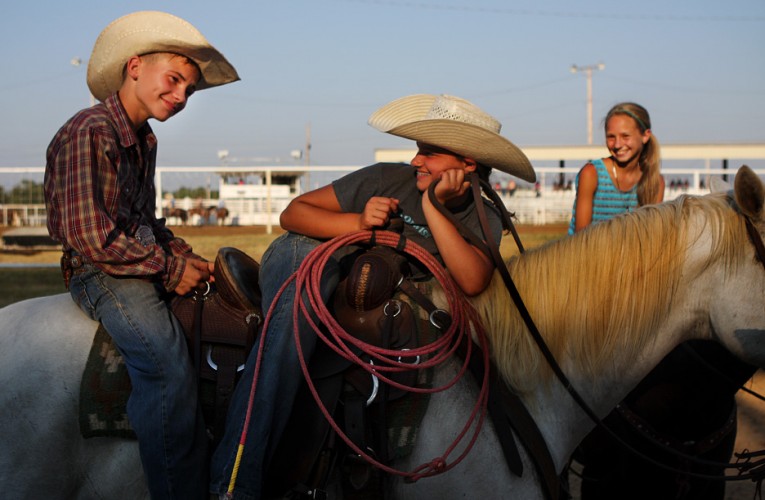 Smitten Cowgirl
Fayth Holloway, 13 of Hominy, and her boyfriend Haden Bethel, 12 of Bristow, wait for the OCCA Ranch Rodeo at the Osage County Free Fair to start Saturday, Sept. 7, 2013. Holloway and her brother competed in the Junior Ranch Rodeo Association's bronc riding earlier that day. It was her first time to ride a bronc, but it will not be her last.
Hard Loss
Ben Goodeagle consoles his cousin Austin Franks after the Woodland Cougars fell to the Wayne Bulldogs in the Class A State Championship in Stillwater on Saturday, Dec. 10, 2011. It was the Cougars' first lost in two years, ending the team's 27 game winning streak. The championship game loss was Woodland's last game as an eleven-man football team. The Cougars will be an eight-man team next season.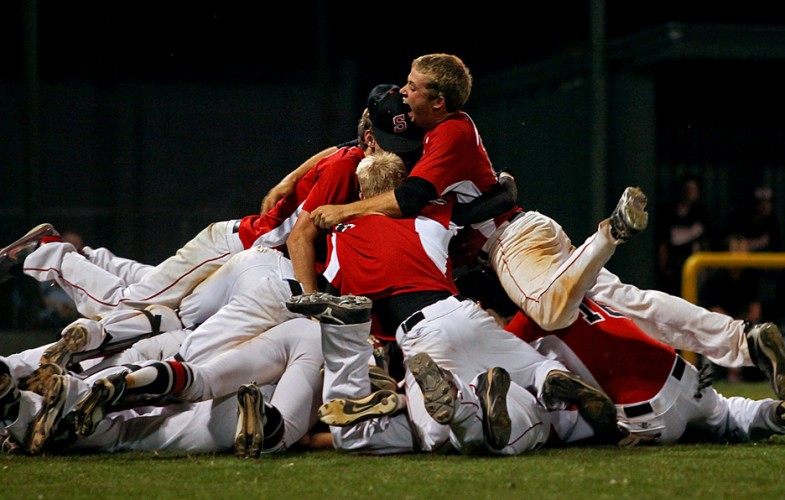 Bulldog Win
The Skiatook Bulldogs dog pile on one another around home base after the game winning run ended the Class 5A Regional Tournament in Skiatook on Friday, May 4, 2012. The Bulldogs run-ruled the Tahlequah Tigers, 10-0, in five innings to qualify for the state tournament. Skiatook was eventually knocked out of the state tournament without placing.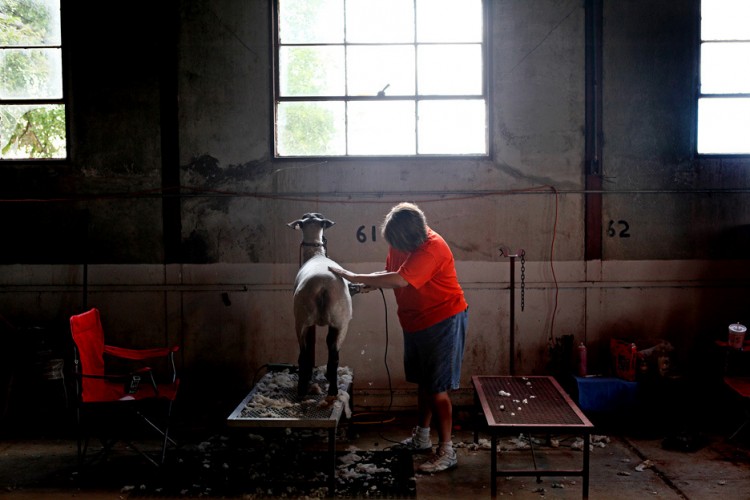 County Fair
Local 4-H members and their parents prepare for the livestock show in the older Osage County Fairgrounds indoor arena Friday, Sept. 9, 2012. The 4-H board had planned to be in the new Clarence Brantley Indoor Arena, but building code inspections left the group in the older arena, which is not only smaller, but has a leaking roof. Some livestock had to be moved after parts of the arena where animals were being kept flooded following Thursday's rain.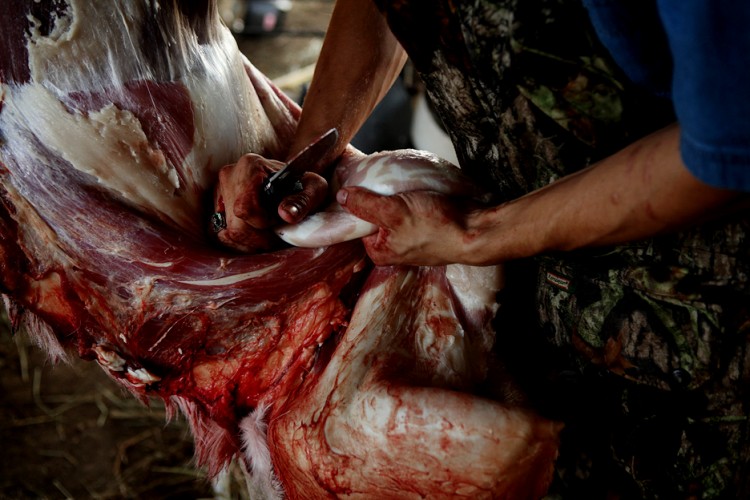 Deer Season
Ben Roberts, 19 of Ochelata, skins a buck at friend's barn just outside Barnsdall on Saturday, Nov. 11, 2011, which marked the start of deer season. "We do it all by hand here. We're a little poor and can't afford a butcher," he laughed. Roberts has been hunting deer since he was 8 years old.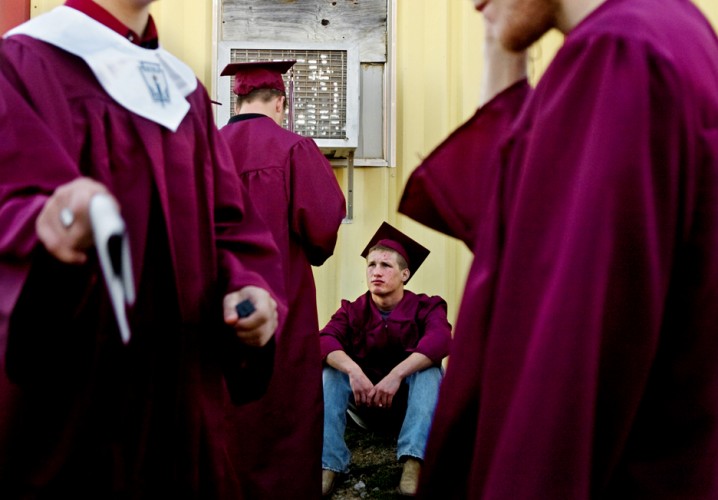 Barnsdall Graduation
Beau Shaw, 18, waits to walk onto Memorial Field for the Barnsdall High School graduation ceremony Thursday, May 5, 2011. More than 30 seniors graduated that day.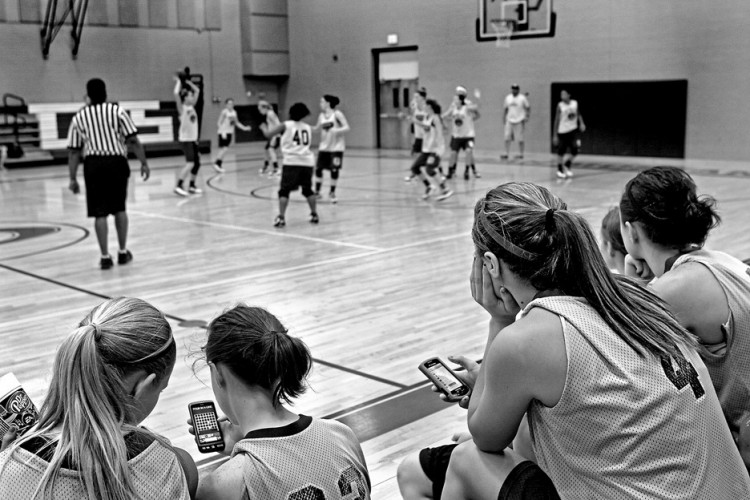 Summer Sidelines
The Barnsdall High School girls' basketball team wait for their next summer league game in Oologah on Monday, June 13, 2011. Head coach Joe Gilbert asked the girls to watch their competition play. They had had other ideas on how to spend their downtime between summer games.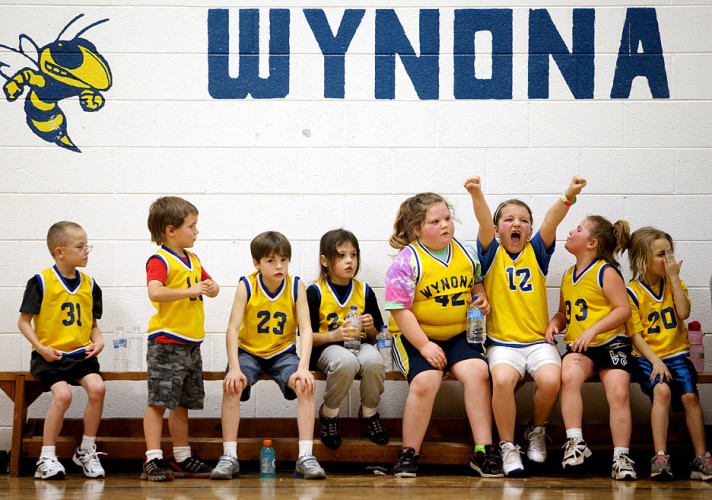 Little Bedlam
The Wynona's first and second grade basketball team takes on Prue Elementary duing a battle of Little Bedlam in Wynona on Friday, Feb. 24, 2012. The event's name stems from the athletics rivalry between the University of Oklahoma Sooners and the Oklahoma State University Cowboys of the Big 12 Conference, which is known as the Bedlam Series.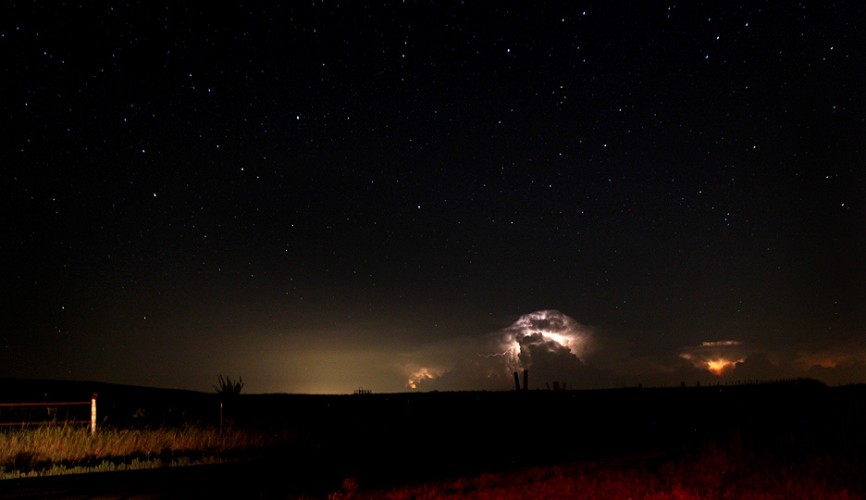 Summer Storm
A thunder storm brewing over Bartlesville, Okla., can be seen from Pawhuska during the late hours of Sunday, Aug., 12, 2012. Drought has plagued the county and surrounding areas for two years, but large storms come with the risk of lightning fires. This storm continues south, falling east of the county.
Prom Dance
Junior Dotti Bickford dances with her boyfriend Brandon Gay during the Barnsdall High School's Junior-Senior Prom at the high school Saturday, April 16, 2011. A year later the fire inspector discovered the gym's water sprinkler system was not hooked up to a water source and had been that way for several years. Prom was moved off campus to the privately owned Woolaroc Museum and Wildlife Preserve in 2012.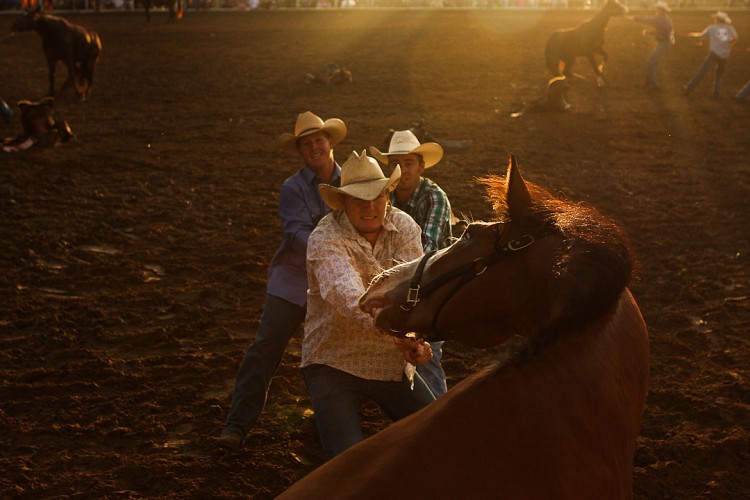 Wild Horse Race
Kendall Johnson, left, Colton Walters, center, and Danny Vance of the Pawhuska Roundup Club fight to keep in the competition during Saturday night's wild horse race at the International Roundup Club Cavalcade Rodeo on July 20, 2013. They left the competition with a no time, after they were unable to saddle and ride the wild horse. The Cowpokes – Jimmy Hunt, Tyler Goodman and Andrew Wells – were the only team to earn a time. They won with a time of 105.68 seconds.